Teaser: Cow-a-dunga
Carson tries to convince Shamus that his fatherís dairy farm is a Global Warming hotspot thanks to too much cow farting. But Shamus thinks her solution stinks. Can Carson shut down Dummkopf Dairy before the town is swallowed up by the stench? Or will Shamus convince the crowd that Carson is actually no friend of the cows?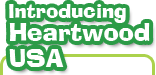 Heartwood USA needs your help...
Carson Heartwood is a 12-year old detective, fighting to help her friends, her town, and her country solve environmental mysteries. But her arch enemy Shamus Dummkopf will use every weapon and dirty trick at his disposal to make sure she never gets to the truth.
The future of Heartwood USA rests with Carson, but she can't do it without YOU. Watch our show. Tell your friends. Make some noise!


ECO-ADVENTURES
Check out a few of the adventures we've got in store for Carson, Shamus, Hugo and the Heartwood USA gang.

FANLAB: SHOW YOUR LOVE
Make some Heartwood noise! Friend us on
Facebook
and
MySpace
.
Download a Buddy Icon
. Or, heart Heartwood at our store.
Buy HW Gear now! >