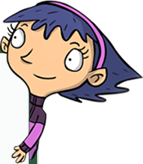 Heartwood USA is a new kind of cartoon.
It's green-tinted adventure comedy where every episode asks provocative questions and takes tough stands on the issues.
Polar bears in bikinis - fashion statement or eco-disaster?


Stuffed whale is not a source of school lunch protein.


Chem lab explosions are not always the chem teacher's fault.


Melting permafrost. No, we won't chill out about it.


Roof grass - who mows?


Solar panels. Heat source or source of sunburn?
Heartwood USA is about kids discovering that they can change the world, and that sometimes, the best way to change it is one laugh at a time.